Overseas investment boosts UK house prices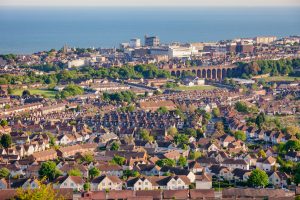 The UK property market is booming. This is in part due to a rise in investment from foreign companies which has raised house prices by more than a quarter in recent years.
This is particularly true for areas in London and the South-East which have seen the largest increase in property values.
A 28% rise in prices
According to an article recently published in The Independent, average prices across England and Wales have risen from £70,000 in 1999 to £215,000 in 2014. New research by King's College London found that they would have risen to £174,000 without foreign investment. This equates to 28% of house price growth thanks to purchasers from overseas.
Why is UK property in high demand?
The UK is an attractive country for investors for a number of reasons, some of which have been highlighted in this article by Property Moose. The UK offers:
Transport and Travel – The UK is served by many airports such as London Gatwick, sea-ports, good road networks and many effective public transport networks both nationally and locally.
Culture – There are many museums, theatres, music venues and other cultural attractions.
Beautiful landscape – wherever you are in the UK, you are spoiled for choice with an array of green space. We are lucky to have the beautiful South Downs on our doorstep.

 

Healthcare provision – The UK benefits from the National Health Service which provides healthcare to all permanent residents of the United Kingdom.
Economic strength – The UK's economy is growing stronger and, according to analysts at Fitch Ratings, is forecasted to continue gaining momentum in the coming years.

 

World-leading education system – as well as good primary and secondary education, the UK offers a world class higher education system producing critical thinkers. There are so many benefits to studying in the UK. Did you know that 3 out of 10 of the world's top universities are in the UK?
A sense of community – There is a good sense of community in towns and cities across the UK. In Sussex, we enjoy many community centres, groups and charities that all enrich the lives of others.
Positive effect on UK home-owners
There have been mixed reactions to the increase in foreign investment in the UK due to a higher rate of buy-to-let properties, however it is not entirely bad news. The investment boosts the economy and also keeps the property market buoyant. 
It has a positive effect on house prices. This applies to not just the increase in price of the most expensive homes, it has a "trickle-down" effect on the least expensive properties too. Your home could be worth a lot more than what you purchased it for.
Selling your home – contact us
If you are looking to buy, sell or let a property, we offer a FREE valuation so please get in touch with our sales team to book an appointment. If you are looking to rent a property, our lettings experts would love to talk to you about your requirements and you can register your details here.