Ever dreamed of owning your own business? Looking for the right opportunity at the right time? Middleton Estates may have just found it for you!
Word on the high street is that the UKs current café culture is here to stay. Helped in part by the love affair that the nation is currently having with caffeine; 2 billion cups of coffee are sold in the UK every year and 85% of us visit a coffee shop at least once a week!  The great news is that you don't have to be a big-name brand to get a slice of this action. Independent cafés marketing themselves as indie or artisan, who are knowledgeable about their products and offer their customers a boutique experience when they visit are the big industry winners.
Olivers on Station Road Hove is a well-established café, already very popular with the community it serves and with the potential for the new owner to grow the business. The property itself boasts a good-sized serving area, inside and outside seating and a well-equipped kitchen area. It is, literally, ready and waiting for someone to come and take advantage of all it has to offer.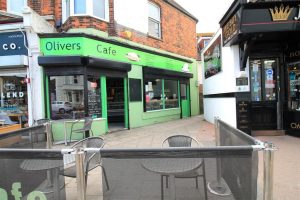 The figures show that this is a healthy industry to get into with plenty of growth and Middleton Estates have the perfect place for you so what are you waiting for call us today on 01273 454878.